Michel Tactor is a user of healthcare technology and has been working as an ambassador for the iZi experience home in The Hague for over a year now. For example, he gives tours of the iZi home, which is equipped with more than 90 smart and handy tools, to inform people about the possibilities of healthcare technology. Why did Michel choose to become a volunteer and what tools does he use to make his life easier?
Why did you decide to become an ambassador for the iZi experience home?
"Vanwege de chronische stofwisselingsziekte Cystic Fibrosis (ook wel bekend als taaislijmziekte) werd ik vroeger regelmatig opgenomen in het ziekenhuis. Hierdoor kreeg ik veel te maken met medische technologie zoals infuuspompen en verstelbare bedden. Ik was me er toen alleen nog niet van bewust dat er ook heel veel hulpmiddelen beschikbaar zijn voor thuisgebruik en dat het 'zorgtechnologie' heet. Door mijn werk bij Voorall, een belangenorganisatie voor Hagenaars met een beperking, ben ik geïnformeerd over de iZi home. Only after my visit to the house did I see how many solutions are available and how much people can benefit from healthcare technology. This made me enthusiastic about Technology for the home and the iZi home."
What do you do as a volunteer at the iZi home?
"(Care) technology is often difficult to understand for the elderly and people with a (mild) intellectual disability. As a volunteer I help to make it understandable and to show that easy-to-use products are also available. Consider, for example, a smartphone for seniors, such as the SimPhone 4. What I find important is that not only the elderly, but also people with disabilities understand how healthcare technology can help them make their daily lives easier or safer. My focus is therefore on finding and communicating solutions that can help everyone with a disability."
What tools do you use yourself?
"Because of the iZi home, I started using a duvet cover that can be opened and closed completely with a zipper. This makes changing beds a lot easier. In addition, I have the Freestyle LibreLink app on my phone with which I measure my blood sugars, which is necessary because of diabetes, which I developed at the age of eight. I used to use the well-known finger prick for this, but after years of measuring five or six times a day, I had almost no fingers left. I was therefore very happy with the arrival of the Freestyle Libre app that continuously measures your blood sugars by means of a sensor on your arm, without a finger prick. What also seems like a nice tool to me is a door lock that can be opened with a tag instead of a key. The iZi home has such a lock for the front door. You only have to hold the tag against the lock and the door is unlocked. For example, I no longer have to fiddle with my keys in the dark at night. Very handy!"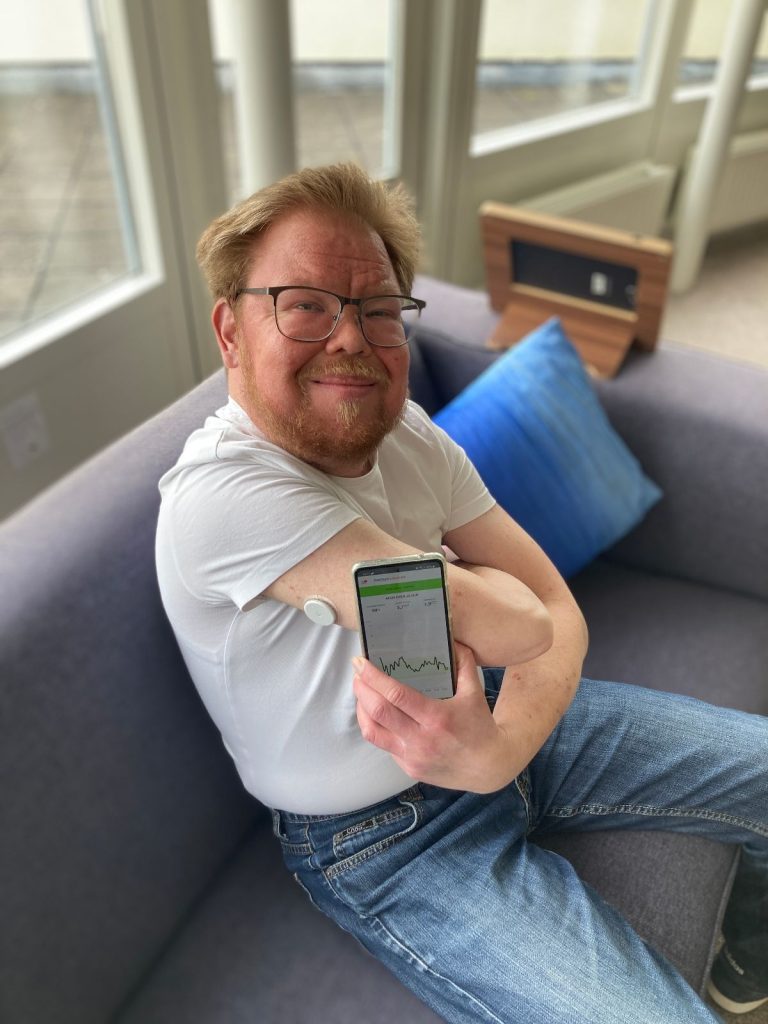 How do the aids help you in your daily life?
"The best thing about healthcare technology is the convenience it offers and the fact that I can do just that little bit more myself without it costing me too much energy. I live with my parents and they still help me with a few things, but they are also getting older. It is also nice for them that the help they offer me has become less intensive due to healthcare technology."
What advice would you give to someone new to healthcare technology?
"I would advise people who do not yet use healthcare technology to visit the iZi home to see what is available. Perhaps with a caregiver. Maybe they'll come across something that makes them think, 'oh, that might help me'. At the lending points, they can then borrow a tool for free for a period of time to try it out at home. I would also advise them to talk to people who already use healthcare technology. Volunteers are present in the iZi home to share tips and experiences, but also to answer questions. Come by I'd say!"